Hits: 77577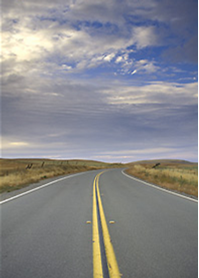 Welcome to the station of www.supplierlifecycle.com, where we would like to share with you the process, tools and practices developed in globally leading industrial organizations, and learn from your valuable perspective to optimize the system and methodology in the field of Supplier Lifecycle Management (SLM).
欢迎来到www.supplierlifecycle.com,我们希望与您分享一些在全球领先的工业组织中所开发并采用的有关供应商管理的流程,工具以及实践。同时获取您宝贵的独特视角以便来优化这个方面的系统及方法。
Hot words under discussion in recent years are "Total Solutions", "Big Data", and "Smart Intelligence System". All of these symbolize people to re-think stuff in a big picture  instead of scatters or fragments, and this has strong link to the fast development of  information technology and globalization. Businesses in many sectors are now either developed vertically or horizontally in width and depth far more than before. Either is expected for achieving results of 1>1, or 1+1 > 2, of which former means the created value is more than before and latter means the total valued created along the value chain is larger than the sum of individual sub-business.
近些年出现的热门词汇包括"全解决方案","大数据",以及"智能系统"。所有的这些都象征人们在重新全局性以大景象思考问题,而非支离破碎的,这些很大程度上归因于信息技术和全球化的快速发展。各行各业的业务要么在专业的细分上更加精细化,要么在价值链上拓展得更长更广,无论哪种都是希望价值产生1>1,或者1+1>2的效果,前者意味着创造的价值胜于以往,而后者意味着这种增值来自于产业链的乘数效应。
There has been concepts and theories in place already for Customer Lifecycle Management and Product Lifecycle Management but seems Supplier Lifecycle Management is not that much mentioned in practices (except some Enterprise Resource Planning software companies), instead of Supplier Quality Management, Supplier Relationship Management, etc. Of course all the latters can cover a broad topics but they still miss a well streamlined overview from the names-selves. For more introduction about Supplier Lifecylce Management pls visit page SLM brief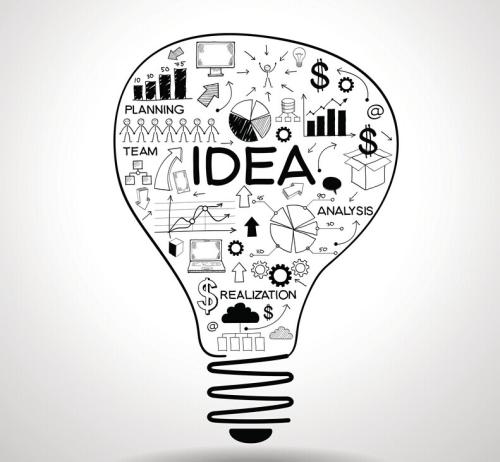 顾客全周期管理和产品全周期管理的概念及理论以不再被人陌生,但似乎供应商全周期管理在行业中并非如此普及(除了一些软件公司所开发的软件模块之外),取而代之的是大家习惯称为供应商质量管理,供应商关系管理等等。当然后者也可以覆盖广泛的相关话题,但就名字本身而言,前者已经很能给大家一种全视角的理解。详细些的介绍请参考供应商全周期管理介绍
" Supplier Lifecycle Management works from the premise that the supplier should be considered as central to procurement activities and processes, an approach which drives significant benefits… Seeing the Supplier as a Lifecycle can help Purchasing departments involve the suppliers earlier in the process so that their needs are satisfied in a deeper more effective manner. SLM considers all the elements of our relationship with a supplier, from initial engagement and information gathering, the sourcing process, through the work relationship, to development and on towards final parting of the ways" (Smith, 2012, p.19).
"供应商全周期管理基于供应商应该是采购活动及流程的中心的假设,同时能够创造显著的收益。。。。。。将供应商视为生命周期去进行管理可以帮助采购部门在更早的环节将供应商融入到流程中,因而确保其需求可以被更深入,有效的被满足。供应商全周期管理考虑同供应商关系的所有因素,从初期的参与,到信息收集,战略寻源以及合作关系建立再到改善,最后分离"
China speeds up the industrialization since opening the door to world in 2001, when China joined the WTO (World Trade Organization). The increased global trading and expanded foreign investment in industries to China forces organizations to place even higher focus over not only internal quality but also external quality, that's an important reason that there was very booming period for ISO9001 and TS16949 in China during 2000 and 2008 as illustrated in below chart (Growth of Quality Management System Certificates Released in China during 2002 and 2016), however it's slowed down since the global economic crisis in 2008.
中国自从2001年加入世界贸易组织后工业化进程明显加快,快速增长的全球贸易和扩张的外商投资促使国内企业置不仅内部质量,而且外部质量于更高的位置,这也是为什么ISO9001和TS16949在2000到2008年间非常盛行的一个重要原因(见下图-2002到2016年间质量管理体系证书在中国的发放量),然而自从2008年经济危机之后增长速度慢了下来。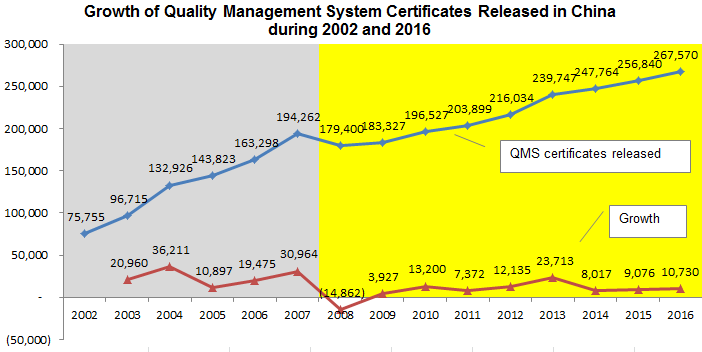 Today's Chinese organizations are exposed to an even fierce competition business environment, and organizations are adopting new development strategy to be more slim and flexible instead of heavily relying on assets, and at the same time more and more organizations are moving towards the two ends of  smile curve value chain – R&D, and Service. As a result, suppliers are becoming critical partners to ensure fast delivery of quality goods at right cost to market, especially when "outsourcing" and "contracting" turns to be hot words in 2010s. Every coin should be saved properly each business activity and value should be maximized, and this is consistent with the principle of LEAN ideas. No exception in Supplier Management, and that's why Value Driven is addressed.
如今的中国企业面临一个更加竞争性的业务环境,组织为了适应更加灵活的业务需求,越来越多的企业开始摒弃重资产的发展策略,而走轻资产策略,也就是向价值链微笑曲线的两端靠近,而供应商正成为企业确保以合理价格快速交付优质产品给市场的关键合作伙伴,尤其是当"外包"和"合同生产"在二十一世纪10年代成为热词之后。按照精益的理念,在业务活动中,每一分钱都应该合理的被利用,从而让其价值最大化。在供应商管理的环节,同样适用,这是为什么称为价值驱动的原因。
In addition to the thoughts blogged, you will also be able to be benefited from below:
seeing  the useful forms and tools applied in real business,
directing to popular and frontier portal

 and knowledge,

being inspired to re-think the supplier management in a bird-view way,
advancing your career development by broadening your horizon,
除了获取一些思想上的分享之外,您也将从以下获益:
了解并有机会下载一些有用的在真实业务中所采用的相关表格,工具
引导到流行的以及前沿的相关论坛及平台
重新全局性思考供应商管理
提升您的职业发展-通过扩展您的全观性眼界
Hope you enjoy!
希望您喜欢!